Although Imacoat HE100 is an essential part in the coating process, the application of it, is at least as important. Only the combination of chemistry and application technology assures a reliable process and the highest quality of the final product. The K-II coating hood is specially designed to meet today's industry needs and has been introduced with great succes.
The hood is supplied in a ready-to-be-installed configuration and several accessories are optional available.
The standard outfit includes cooling and exhaust.
---
---
What are my options?
K-II (Standard version)
Length: 1600 mm
Maximum bottles per minute: 500
Maximum bottle height: 500 mm
KL-II (High speed)
Length: 2000 mm
Maximum bottles per minute: 850
Maximum bottle height: 350 mm
KS-II (Limited space)
Length: 1300 mm
Maximum bottles per minute: 450
Maximum bottle height: 500 mm
K-I (Custom)
Custom specification within design limits
---
What are the sub-systems?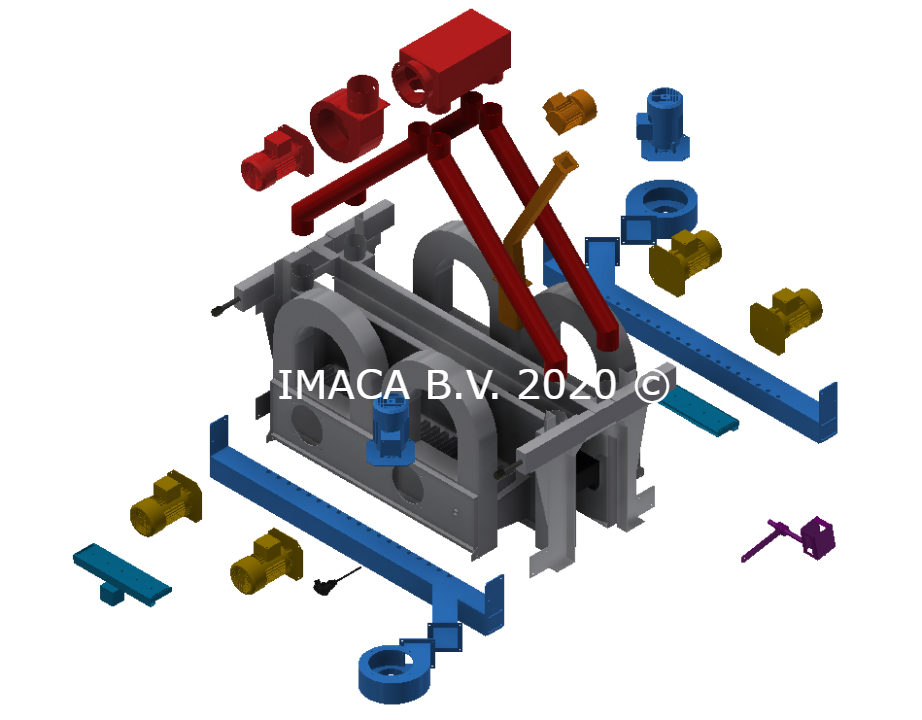 The Imaca coating hood has multiple systems. We have detailed them in the image on the left. The systems are:
Black – PT100 (Temperature)
Blue – Cooling system
Orange – Finish protection system
Purple – Bottle detection
Red – Exhaust system
Turqouise – Heating system
Yellow – Gas circulation system
We have multiple options regarding the sub-systems, for more information see the next chapter.
---
Swing hood [Lifting device]
Besides the systems above, we also have the "Swing" option. With this system you will have the abillity to open the coating hood on one side and remove jammed production.
---
Is that all?
Not at all, we have some more options for you. For this you will have to navigate to our control cabinet page, you can find it by clicking on the link below.